Are you wondering which web hosting control panel is better: Plesk or cPanel? Then, you are at the right place. This write-up is for you.
Plesk and cPanel – both are among the most popular control panels in the market. They provide their customers with easy-to-use dashboards, filled with various useful features when it comes to managing the websites.
Butwhich one is the best option for you? Let's take a quick look at Plesk vs. cPanel and do a side-by-side comparison.
Plesk vs. cPanel: Overview
In the past two decades, Plesk has gone through different stages of development and has continued to evolve. It provides many features and options for system administrators to manage web hosting, such as setting up new websites, create reseller accounts, email accounts, create and manage DNS entries, and much more, all through a single web interface.
Plesk supports both Linux and Windows operating systems. The latest version of Plesk is Obsidian 18.x.
Plesk dashboard
cPanel, however, has been in existence before Plesk. Because it was released before, many users have continued to use it due to habit and comfort. It provides tools and graphical interface that eases the management of website hosting process.
cPanel supports only Linux operating systems. However, there are ways to run it on Windows servers.
Its most recent versions are a combination of cPanel (Customer Account Manager) and WHM (Web Host Manager, for server administration). The newest version of it is cPanel Version 92.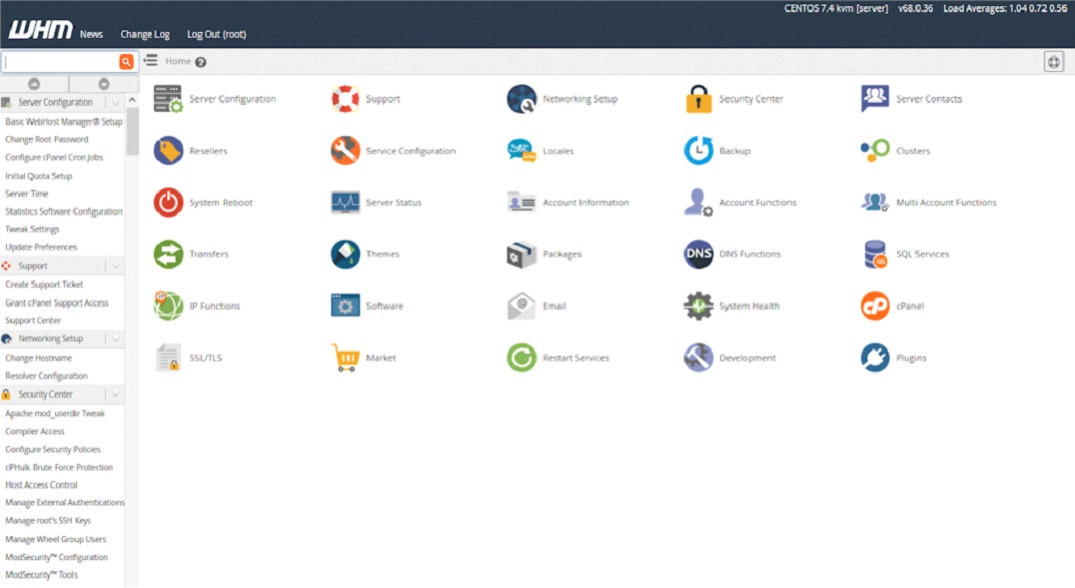 cPanel dashboard
Plesk vs. cPanel: A comparison
To choose the best of the two control panels, you need to compare their features to see which one meets your hosting control panel needs. Here's the comparison:
User Interface (UI)
From the perspective of UI, both Plesk and cPanel are quite similar. However, many users favor Plesk over cPanel as its graphical user interface (GUI) is cleaner and easier to navigate. To make the user experience intuitive, Plesk has organized its features on the left-hand side of its dashboard. When clicked, they expand to show more options.
On the other hand, the cPanel's graphical user interface doesn't organize the features as helpfully and is often considered as too cluttered and difficult to navigate. However, cPanel allows its users the options to customize and group features to change the interface as per their needs.
Features and Tools
Both Plesk and cPanel provide their users a number of similar features and tools for customer and server management. Both control panels can be used to manage email accounts, configure DNS, FTP, and manage the database.
Although cPanel allows its users to add more apps to it, Plesk, as an alternative, comes with more apps and extensions, which users can get directly from the Plesk panel.
Plesk also supports Docker on Linux with the capability of 2,00,000 plus images that users can launch from within the control panel. cPanel gives you the possibility to run Docker and Git, but this is considered somewhat difficult.
Backup
Plesk control panel provides reliable backup functionality, allowing the users to schedule their daily, weekly, or yearly backups. With Plesk, you get domain configuration, data backup, and email backup, with an easy restore option.
Conversely, with cPanel, you can only self-manage backups and not restore backup files.
Security
Both Plesk and cPanel offer robust security features. Although they both offer different security features, there are various security tools for users as per their needs.
For security, Plesk offers firewall, AutoSSL, ImunifyAV (anti-virus and monitoring tool), Fail2ban (intrusion prevention), and email spam filters.
cPanel provides password-protected directories, IP address denials, and automatic SSL certificate installation.
So, what's your decision? Plesk or cPanel?
Between the two web hosting control panels, the best option for you is the one that provides you with the features that are required in your case and easier to use.
Here is a quick summary that can help you make your decision:
Plesk vs. cPanel: Quick Summary
Clearly, Plesk control panel seems like a solid web hosting control panel over cPanel as it offers more features, reducing the efforts of administrators.
Some of the features like operating system availability and interface is something you need to choose for yourself. However, we hope this article will put things into perspective and will help you in deciding your best web hosting control panel.
Have questions? Let us know in the comments section.